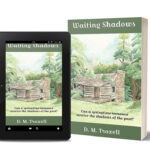 Waiting Shadows by D. M. Troxell is a good old fashion Harlequin-type romance. Staged in the modern Colorado Rockies, the author's love of the terrain and the ranch life portrayed by many a successful western writer combine to bring this story humor, mystery, and romance.
Stacy has lived in the shadows all her life. Her father was a successful western author known for his vibrant descriptions of the ranch lands in the Rockies. He and her mother were inseparable, exhibiting a relationship Stacy herself can only hope for, but is afraid to find.
After losing both parents in quick succession, Stacy determines to take a holiday to hide from the publicity and let the attorneys sort out the estate issues. She returns to the family homestead to work on her thesis and wait out the summer in quiet solitude. What she finds is the aloof and arrogant heir to the bulk of the valley's wealth – and more shadows than she ever knew existed in her parents' carefully guarded past.
Amazon and Barnes & Noble